JACK QUINN'S RUNNING CLUB
JOIN US AT JACK QUINN'S FOR OUR TUESDAY NIGHT RUNS!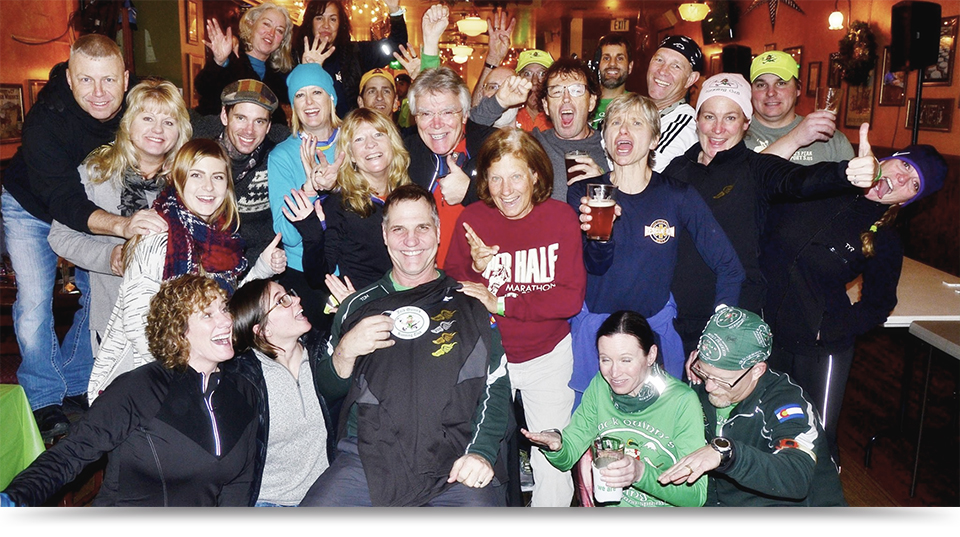 Information
– 5k Run / Walk / Trot / Stagger / Crawl
– Dog friendly
– Sign in starts at 5:15PM
– Sign in ends around 7:00PM
– Feel free to start the run anytime you wish, just sign in during the official hours. With an average of over 1200 runners each week, you'll never run alone.
– $1 tacos and discounted food every Tuesday!
– Running Club T-shirt on your 10th Attendance for $10!
– Coveted Long Sleeve "Century Club" Tech-shirt available for $40 on your 100th Attendance Run!
– Family Friendly! (children and strollers welcome on course and in bar)
– $3.50 Happy Hour price on select pints of beer as follows:
Avery Island Rascal, Boulder Nitro Shake, Breckenridge Palisade Peach Wheat, Bristol Compass IPA, Bristol Hazy IPA*, Bristol Beehive, Bristol Mango Golden Sour*, Bristol Runners's Red, Kilkenny Nitro Red Ale
* Upstairs bar only
Location
We meet on Tuesdays at Jack Quinn Irish Alehouse and Pub. Sign in begins at 5:15 pm and ends at 7:00 pm. Start on your own. Announcements and shirtings begin at 7 pm.
Jack Quinn's Itish Pub and Alehouse
21 South Tejon Street
Colorado Springs, CO 80903
(719) 385-0766
History
The origin of Jack Quinn's Running Club is best explained by excerpts from an article published in The Colorado Springs Independent on February 22, 2007
Quinn's Running Club was born, fittingly, over a boilermaker (typically a shot dropped into a beer). At the Tejon Street pub one night, word made it to co-owners Bill and Donna Sasz that it was [Ryan] Shininger's 25th birthday. They bought the recent Florida transplant an Irish Car Bomb. As he talked with them, Shininger mentioned his surprise that no bars here sponsored a running club, like the one he had belonged to when he lived in Pensacola.
The Saszes said they'd support one, if Shininger would take the lead in putting it together. So he found some free-advertising outlets, and visited pre-existing running clubs and the Colorado Springs Young Professionals Group. Meanwhile, Quinn's general manager, Ivette Gallegos, took care of some details: the time, the place, the post-run refreshments.
When the club held its first run last June [2006], Shininger and Gallegos hoped for 20 runners; about 70 showed up. Each week, its numbers increased. By summer's end, more than 300 people were coming to the pub on Tuesdays after work, going out for a 5K, then coming back for free pasta, bread and salad, as well as discounted beer. ($3.00 pints.)
Running in the club is free, and there's no commitment required. Participate ten times, and you qualify for a shirt.
All running clubs are open to everyone, but they generally appeal to the hard-core running crowd, Shininger explains. Whereas with this, anyone can come out and run 5K, or walk even shorter than that.
When asked what he's most proud of, he cites the idea that he's helped turn a pub back into a pub. In Ireland, it's more of a family thing people bring kids to the pub, he says. It's not about going out and getting drunk, it's about socializing and meeting new people.
JQRC Presidents:
Ryan Shininger (2006-2007); Allison Plute (Jan-Jun 2007); Karen Evers (Jun 2007-2010); Jesus Jimenez (2010-2011); Shawn Finley (2011-2013); Adam Hulsey (2013-2015); Tom Finke (2015-2018); Michael Schafer (2018-2020); Brian Maguire (2020-2022); Michael L. Yowell (2022-present)
Rules of Engagement
1. You must sign a waiver to run with the club.
Jack Quinn's ain't held responsible if you injure yourself.
2. You are running at your own risk.
Obstacles such as fast moving cars, curbs, ice, parking meters, leprechauns, and confused tourists may be encountered at any time.
3. Do not jaywalk.
That is naughty and you will be BOO'ed at by the mob of runners. And if thou witness a jaywalker, thou shall partake with the righteous mob in the BOO'ing of this fool.
4. Tip your barkeeps well.
C'mon, you're only paying three bucks a pint!
5. You must wear a headlamp or carry a flashlight during the winter season.
(Or set your hair on fire). You need to see and be seen!
6. Stay informed and get involved.
Join our Website and ask about volunteer opportunities.